The 712 Initiative's Shoe Recycling Drive is a local shoe collection effort in partnership with elementary schools and local businesses. The drive is hosted each year to help divert thousands of shoes from our local landfill, as it takes shoes about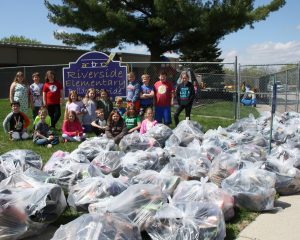 1,000 years to decompose. Shoe and clothing waste makes up 65.7% of content in landfills.
The 712 Initiative partners with Funds2Orgs in order to help provide a solution for this waste issue. Every shoe donated is reused in some way (reused, recycled, repurposed). In addition, our organization receives a financial donation for all the shoes we collect. You are not only saving the planet but you are supporting a local nonprofit!
Help us save shoes from the landfill and start bundling & bagging them today!
We are always looking for community partners to expand the reach of this program.  If you are interested in joining our efforts please email our Director of Events & Programming (Jeff Snow – jsnow@the712initiative.org)
---
The drive typically hosts public drop-offs at partner businesses and within schools in Council Bluffs. This year, due to the COVID-19 pandemic and most partner businesses being closed, The 712 Initiative has come up with a different method for accepting donations.
The 712 Initiative will be hosting time for public drop-off at their building located at 12 Scott Street on the Wednesdays leading up to Earth Day, with a longer drop off period on Earth Day. This drop off method will be no-contact and will follow social distancing guidelines.
Pairs of shoes, either tied or rubber banded together, can be dropped off at 12 Scott Street, from 10:30-11:30 a.m. and 5-6 p.m. on Wednesday, April 8 and again on Wednesday, April 15. 
On Earth Day, April 22, the shoe drop off window will be 2-6 p.m.