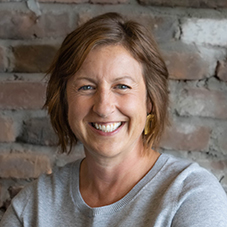 Lynn Dittmer
Director of Redevelopment
712-396-2494, ext. 205
ldittmer@the712initiative.org
Lynn grew up on a farm outside of Remsen, IA, and attended Iowa State University. She holds a Bachelor of Science in Community and Regional Planning. Lynn has 2 years of experience in grant writing, administration, and oversight of local, state and federally funded projects. Her experience while working at COGs, a consulting firm, and now a nonprofit has been community and economic development focused. As Director of Redevelopment, she has been part of every step of a project – visioning, engagement, fundraising, design, construction, and project closeout. Lynn enjoys the 712's focus on redevelopment and dilapidated properties both big and small (mixed use and single family). When not working, Lynn keeps busy in the garden, biking, spending time with her husband and 2 girls, and by cheering on the Cyclones.
Lindsey Grote-Rodgers
Director of Marketing & PR
712-396-2494, ext. 203
lindsey@the712initiative.org
Lindsey grew up on a farm outside of McClelland, Iowa and attended Underwood Community Schools. After high school, she continued her studies at Iowa State University and received her Bachelor of Fine Arts in Interior Design. Prior to her role at The 712 Initiative, Lindsey spent 15 years with Hy-Vee in various rolls, most recently on the marketing team for the Nebraska Region. Lindsey's experience in marketing and passion for design led her to a home at The 712 Initiative. Her love of community drives her to see potential in everything from everyday moments, to impactful life changing projects. Lindsey is a proud mom of 2 active kids, Manny and Eliana. Her husband, Eric, teaches high school and middle school art and coaches varsity soccer at Underwood Schools. In her free time, Lindsey enjoys cooking & baking, musicals, rowing & lifting, crocheting, home improvement projects, spending time with family and being a proud Cyclone!
Cieandra Tripp
Project Coordinator
712-396-2494, ext. 206
ctripp@the712initiative.org
Cieandra was born and raised in Council Bluffs where she graduated from Abraham Lincoln High School. She then continued her education at Iowa State University graduating with a Communication Studies degree. She returned to Council Bluffs and did all the things you do in your 20's… bartended, skydived, traveled a bit, played intermural sports, bought a new car, became a homeowner and got married to Jared. Jared came along with his son, Gaige (who is attending ISU) and they now have two girls, Adlee and Lyric. Cieandra recently graduated from Leadership Council Bluffs. These days, Cieandra keeps herself busy with Council Bluffs Noon Rotary, coaching and watching youth sports, gardening, community volunteering, alumni events, crafting, and being a Girl Scout Leader.
Matthew Ellis
Construction Project Manager
712-328-9476, ext. 106
mellis@habitatcb.org
Matthew grew up in rural Northeast Nebraska, running cow, fishing in stream and just getting dirty. He has degrees from Southeast Community College, Morningside University and The Academy of Arts University. Matthew now makes the Omaha metro his home with his wife and three daughters. He has spent the last 20 years teaching, coaching, facility managing, remodeling and building homes.  Matthew is a nonprofit junkie! When 712 was looking for a new direction in their building and constructions division, he jumped at the chance to sign on and "Fill His Bucket" even more. His daily driving motivation is believing that everyone deserves a nice, safe home to live in and this is a need and not a want. When people have this need fulfilled, they will thrive and when they thrive your community with be rewarded from their successes. Matthew fills his spare time with family, the love of the great outdoors, and other works as a Free Mason, Scottish Rite member and The Tangier Shrine. Look for him at a parade near you driving his mini 1957 Chevy car! Together let us build a better and stronger community!
Anne Silknitter
Administrative Support Associate
712-396-2494, ext. 201
asilknitter@the712initiative.org
Anne comes to The 712 Initiative with a wide range of experiences and knowledge. She graduated from high school in Harlan, IA and then completed her Behavioral Science degree. She currently enjoys a 100-year-old refurbished farmhouse in Treynor, IA which she shares with her husband Tim and 2 adopted dogs George and Walter.  They have 2 children. Kate will graduate from Iowa State soon and Colton is pursing a culinary degree from DMACC. Tim has a background in architecture and owns a construction company and design studio in the area. In her free time, Anne is an avid reader, swimmer, traveler, and motorcycle rider. When you come into the office you may find her reciting lines from school plays or spontaneously breaking into song. Anne is excited to be serving the Council Bluffs community.
Brandi Drvol
Farmers Market Manager
712-396-2494, ext. 204
brandi@the712initiative.org
Brandi's bio is coming soon!