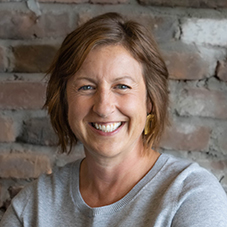 Lynn Dittmer
Director of Redevelopment
712-396-2471
ldittmer@the712initiative.org
Lynn grew up on a farm outside of Remsen, IA, and attended Iowa State University. She holds a Bachelor of Science in Community and Regional Planning. Lynn is very excited to be with The 712 Initiative as she is passionate about the region in which she lives. For Lynn, building on the momentum already here and encouraging new economic opportunities for this community is meaningful work. Her previous work with Omaha/Council Bluffs Metropolitan Area Planning Agency and JEO Consulting provided her with experience in grant writing and administration, strategic planning, as well as facilitation. When not working on redevelopment projects or attending Farmers Market Council Bluffs, Lynn keeps busy in the garden, biking with the family, chasing the kids around, or cheering on the Cyclones.
Lindsey Grote-Rodgers
Director of Marketing & PR
712-396-2467
lindsey@the712initiative.org
Lindsey grew up on a farm outside of McClelland, Iowa and attended Underwood Community Schools. After high school, she continued her studies at Iowa State University and received her Bachelor of Fine Arts in Interior Design. Prior to her role at The 712 Initiative, Lindsey spent 15 years with Hy-Vee in various rolls, most recently on the marketing team for the Nebraska Region. Lindsey's experience in marketing and passion for design led her to a home at The 712 Initiative. Her love of community drives her to see potential in everything from everyday moments, to impactful life life changing projects. Lindsey is a proud mom of 2 active kids, Manny and Eliana. Her husband, Eric, teaches high school and middle school art and coaches varsity soccer at Underwood Schools. In her free time, Lindsey enjoys cooking & baking, musicals, rowing & lifting, crocheting, home improvement projects, spending time with family and being a proud Cyclone!
Bryan Larsen
Construction Project Manager
712-396-2476
bryan@the712initiative.org
Bryan's bio is coming soon!
Amber Quigley
Director of Programming and Events
712-396-2463
aquigley@the712initiative.org
Amber's bio is coming soon!
Cieandra Tripp
Project Coordinator
712-396-2472
ctripp@the712initiative.org
Cieandra was born and raised in Council Bluffs where she graduated from Abraham Lincoln High School. She then continued her education at Iowa State University graduating with a Communication Studies degree. She returned to Council Bluffs and did all the things you do in your 20's… bartended, skydived, traveled a bit, played intermural sports, bought a new car, became a homeowner and got married to Jared. Jared came along with his son, Gaige (who is attending ISU) and they now have two girls, Adlee and Lyric. Cieandra recently graduated from Leadership Council Bluffs. These days, Cieandra keeps herself busy with Council Bluffs Noon Rotary, coaching and watching youth sports, gardening, community volunteering, alumni events, crafting, and being a Girl Scout Leader.