712 Day is a new community event happening Sunday, July 12 to spread positivity and community love around Council Bluffs!
On July 12, our organization will be setting up a heart made of string lights in Kirn Park (Fifth Avenue two blocks east of Bluff Street) with the goal to fill the heart with the everyone's memories and love for Council Bluffs.
The public is invited to join in a few easy steps.
Paint a rock.
Take a photo and share it to the Facebook event with your favorite memory or what you love about Council Bluffs.
Place the rock in the heart of lights at Kirn Park on July 12.
Our hope is that organizations and individuals from across the community will set aside this day every year to express love and pride for our community.
Between now and July 12, residents and organizations are encouraged to paint a 712 Rock, post a photo of it online, and share their favorite Council Bluffs memory. Make sure to use the hashtag #712day to join in the fun.
For community members: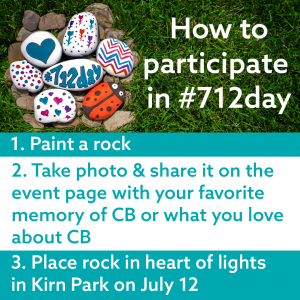 For businesses: