For the third year in a row, three local entities, The 712 Initiative, Habitat for Humanity of Council Bluffsand TS Bank have partnered on a program called, AMP for Neighborhoods, which helps Council Bluffs homeowners needing exterior home improvements. Thanks to a generous anonymous donor, the program will continue for 2023.
Individuals are encouraged to nominate themselves or a neighbor with outdoor housing repairs or improvement needs. Project requests can range from painting, fencing, siding, driveways, sidewalks, windows, roofing, exterior doors and landscaping.
Applications will be available May 1 through May 31, 2023.
In addition to curb appeal projects, the AMP program also collaborates with the Habitat for Humanity of Council Bluffs home repair programming offerings, where after assessment; Habitat's construction crew may make arrangement for internal home repairs.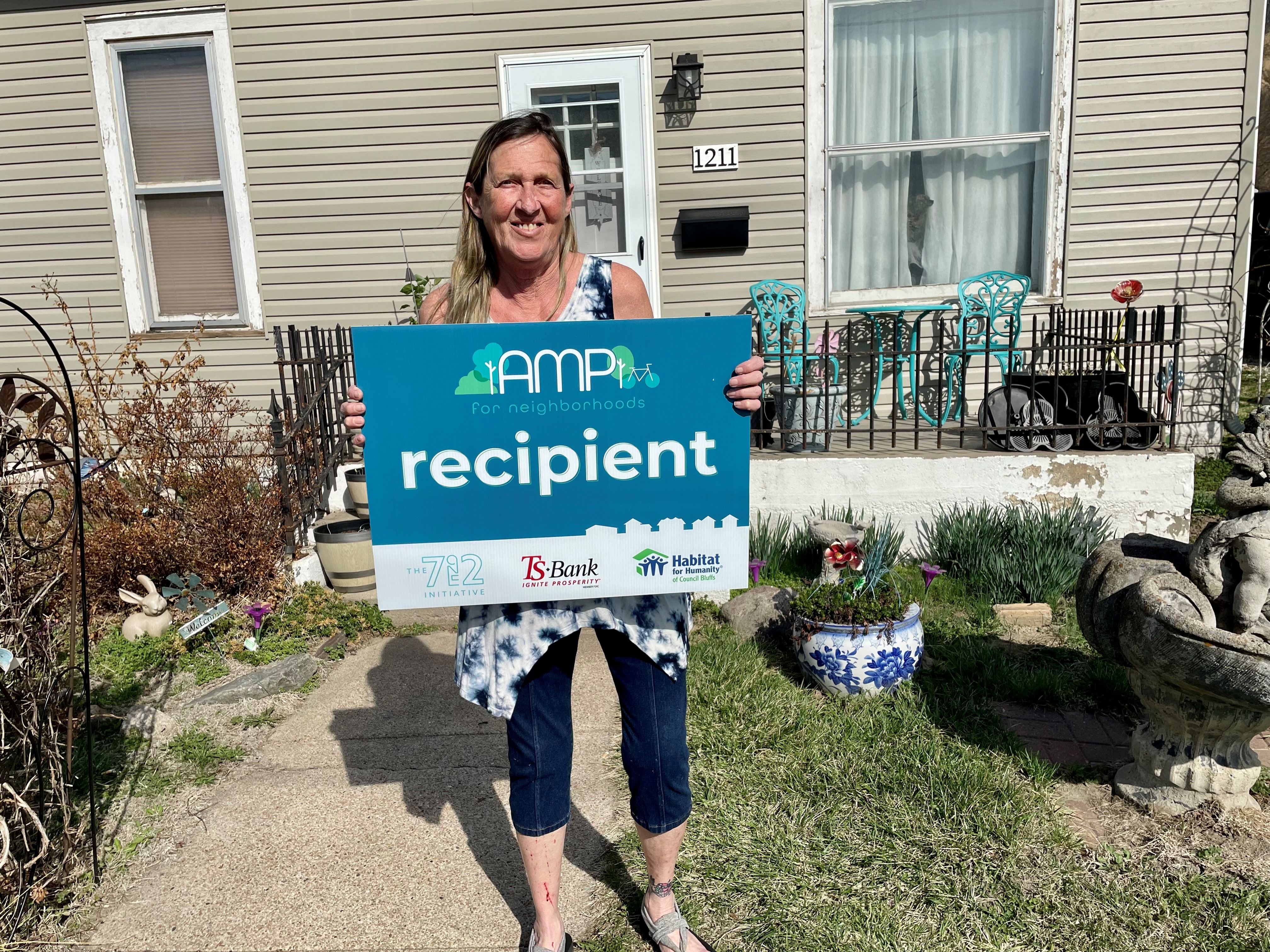 Pictured above: Kandi Preutt, 2023 AMP recipient
Since the program's inception, over 50 homeowner projects have been assisted. One of these homeowners includes, Kandi Pruett who has experienced various hardships the last several years, including recently losing her son to cancer.
The original home is over 100 years old, but it has been in her family for nearly 80 years as it was her grandmother's home. Kandi grew up just a block away and was thrilled to inherit this house, despite the condition.
She spent lots of time at her grandmother's home during her childhood. Now full circle, Kandi is grateful for those memories and being able to continue that legacy in the same home years later.
"It has been an undertaking being a homeowner, but I am so proud to be able to carry this on. This has been in my family for just shy of 80 years. This program really helped me keep my home, and it's hard to put into words my gratitude."
Kandi works just around the corner at the gas station and loves living so close to work, her coworkers and her community. She is always quick to give a friendly smile and greeting to all the regular customers.
As part of the AMP program, she received a new roof, chimney repair and new siding. This has renewed the curb appeal and salvaged further water issues.
"There were times with rain or snow, I was afraid my roof might cave. This gives me so much peace of mind."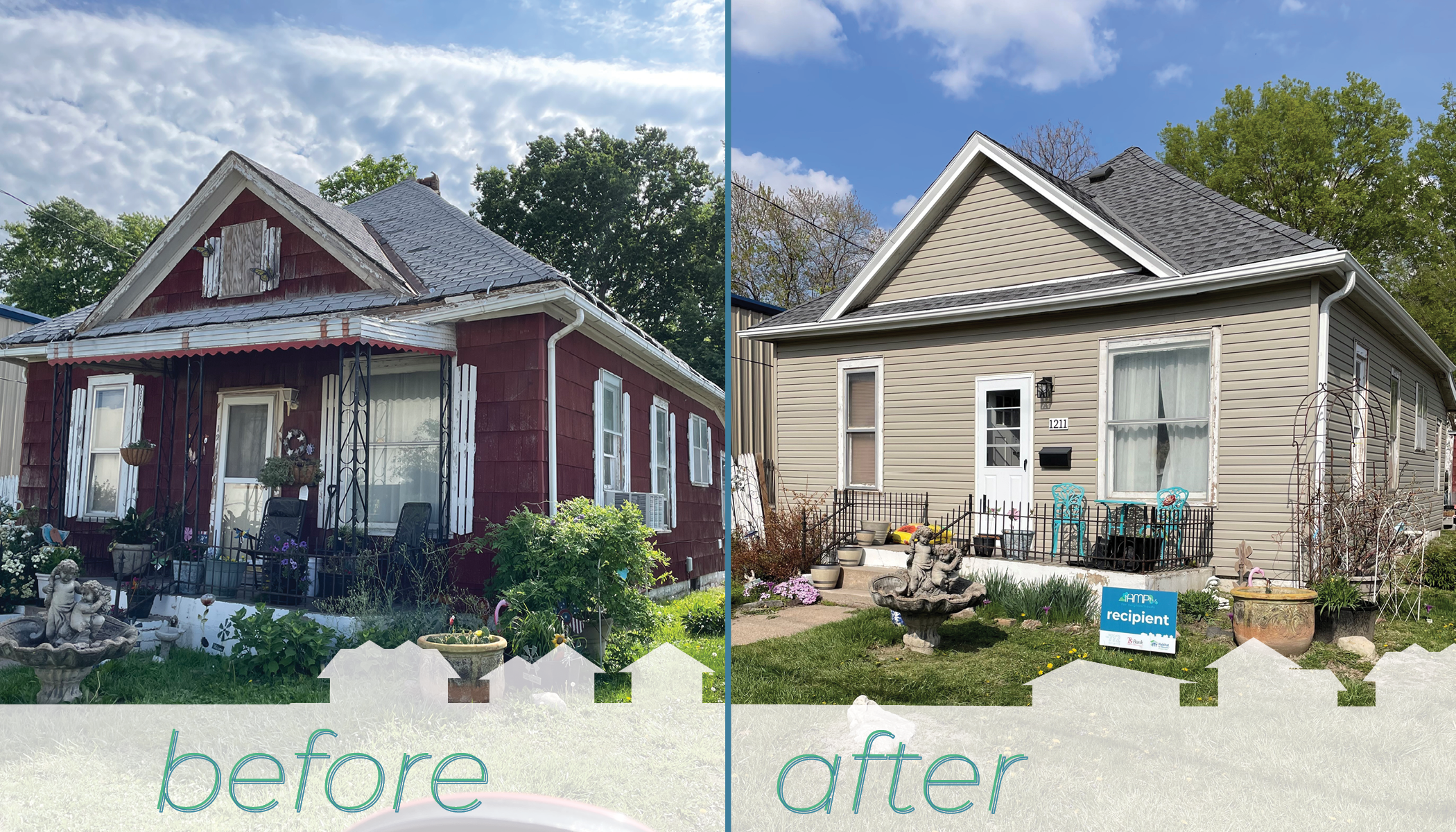 Before and after photos Kandi Pruett's home located in Council Bluffs, Iowa
In addition to AMP, Kandi also applied for the Habitat for Humanity critical repair program after encouragement from others. She has never had the means to get these critical repairs done. Between the two organizations, this home will received the necessary refresh to live comfortably and help her stay in her home.
"I really don't know where I would be without these programs. For years, I have tried to fix things on my own and so glad there is help like this for homeowners like me."
In addition to the donated funds, the program has been successful in leveraging donations for labor and materials from small businesses wanting to get involved, including tree trimming, roofing, etc. Local contractors also received a boost from the AMP for neighborhoods program, as several timely projects helped sustain typical year-end lull times for construction companies.
"The AMP program has really extended beyond the brick and mortar of homes, and has helped transform people's lives," said TS Bank, Director of Public Relations, Kelsey Stupfell. "To see revitalized neighborhoods and positively affected individual homeowners will help create a lasting impact in Council Bluffs for years to come."
If you have any questions, please contact Cieandra Tripp at ctripp@the712initiative.org or 712.396.2472.