Closed for the Season
Saturday, March 12, 2022

The 100 Block
SHAMROCK SHUFFLE
THANK YOU for all that participated in this year's Shamrock Shuffle 5K! It was a cold one but we had fun! We hope to see you next year!
2022 Shamrock Shuffle 5K
This festive race winds through historic downtown Council Bluffs, with the finish line is located at the Historic 100 Block. We encourage St. Patrick's Day attire to fit the shamrock themed 5k. Along with festive outfits, the race begins & ends with an outdoor party with live music, and local eats!! Call your friends, bring your family and  join us for the best event this side of the rainbow!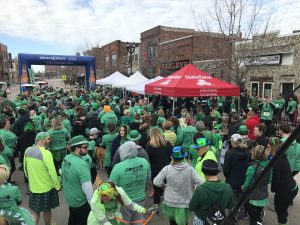 Nationally Certified 5K Route

Professionally Timed

Live Music / DJ

Yard Games

Local Outdoor Food

Lots of Fun!
TURN -BY-TURN DIRECTIONS
Start at the 100 Block on W. Broadway in front of Barley's Bar
First turn is a left across the street from the US Bank on the corner of W. Broadway and Main St.
You will follow the curved path by the fountain making a left on Pearl St.
Make a right on to the sidewalk going around Bayliss Park(1st Ave)
Left on 6th St. (sidewalk)
Right on Willow Ave (sidewalk)
Left on Pearl St
Follow Pearl St to the fork in the road and continue down Main St.
Right on 10th Ave
Left on 6th St
Right on 12th St.
Left back on Main St.
Make a U-turn at 16th Ave and Main St.
Left on 12th Ave
Right on 6th St.
Right on 10th Ave
Left on Main St.
Follow Main St. to the Fork in the Road. Take the left side of the fork to Pearl St.
Follow Pearl St. Until you reach Bayliss Park. Follow the sidewalk around Bayliss Park.
Left on Willow Ave (sidewalk)
Right on 6th St. (sidewalk)
Right on 1st Ave(sidewalk)
Left on Pearl St.
Right on the curved road by the fountain
Right on W. Broadway
Finish! 
* There will be signs on every corner with arrows of which way to turn.
SHAMROCK SHUFFLE FAQ's:
What time does the race start?

Race starts at 10:00am on March 12, 2022

Where is the start line?

The start line is located at the 100 Block of W. Broadway St

When is Packet Pick-up?

Packet Pick-up will be held at Barley's Bar (114 W. Broadway St.) on Friday, March 11, 2022 from 4:00pm -6:00pm

Is there a Packet Pick-up on race morning?

Yes, but we encourage everyone to come on Friday

Who can participate in the race?

This run is for all ages and all skill type

What should we wear?

Wear GREEN! and dress in layers

What are the COVID-19 protocols?

Please stay home if you are experiencing any COVID-19 symptoms.
At the start line, please stay social distant from other participants

How do I know I am registered?

Confirmation will be sent to you from getmeregistered.com and your payment will be listed as "PP*GetMeRegistered Events" on your statements

What is the registration deadline?

March 11, 2022 at 6:00pm *please note, if you register on March 10, 2022 anytime after 6:00pm, you will have to pick up your packet on race morning.

I am injured, pregnant or no longer able to attend the race. Can I get a refund?

Unfortunately, no refunds are allowed

Can I register more than one participant at the once?

Yes! On the registration site, if you scroll to the last option, "Register multiple participants", this will allow you to choose the total number of participants in one transaction.

Will there be a pace team?

We will have a pace bicycle in the font of the pack to lead the way!

I want to volunteer, who do I contact?

Please fill out the volunteer form HERE

Is there a course time limit?

The course will close at 11:30am and the streets will reopen at 12:00pm.

Will there be awards?

Yes! Awards will be given out in four different categories per gender. 18 and under, ages 19 – 39, ages 40 – 59, and ages 60 and over. Awards will be presented following the race at the Afterparty.

Will there be a water stop on the race?

Yes! The water stop will be located at the half way point.
Thank you to our 2022 Sponsors!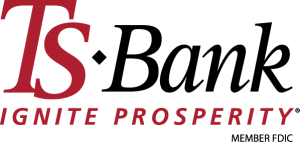 *presents the 10th Annual Shamrock Shuffle
 Doll Distributing– Athletico Physical Therapy – Renegade Bootcamp & Boxing – The Hub – Pottawattamie County Public Health – Pottawattamie County Sports & Family Chiropractic
Follow Shamrock Shuffle on Facebook