We know that times are strange, especially for an organization whose mission includes activating public spaces and delivering events and programs that increase social engagement. While we're a bit limited to what we're able to do while adhering to social distancing and safety guidelines, that doesn't mean there aren't many things to look forward to as everyone continues through the summer and fall.
In fact, here are SEVEN big things that one can look forward to with our organization over the next few months.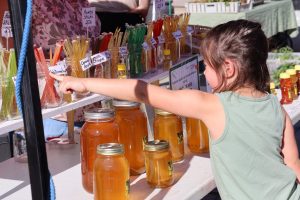 1. Farmers Market Council Bluffs. Now in its 11th market season and sponsored by CHI Health Mercy, Farmers Market Council Bluffs has 30 local vendors out in Bayliss Park every Thursday. With a wide range between local produce, hand-crafted soaps, local honey, baked goods, food trucks and more, the farmers market has a little something for everyone. There are social distancing and safety measurement set in place to provide a safe market to the community. The market activities in Bayliss Park have been limited due to the pandemic, but we're looking into fun projects they can hand out to families before the season is through.
2. 5K Fridays. Originally started as a way to engage the Shamrock Shuffle community after its cancellation in the spring, 5K Fridays have evolved into a movement to promote health and active lifestyles. Whether you run, jog, walk, or bike – the main goal is to get your body moving. The Facebook group "#5Kfriday – Fitness at a Distance" currently has more than 1,000 members from 25 states and is growing every week. The 5K Friday community continues to show incredible support to each other during a time when camaraderie is more valuable than ever.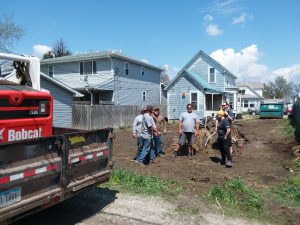 3. Housing Revitalization Program. Launched in the spring, this program is focused on improving single family housing in Council Bluffs. Over the next five years, the program's goal is to renovate 25 houses and return them to the market. Our organization has purchased the first three homes of the program which are currently being remodeled. Much of the demolition work was done through the help of volunteers in spring and early summer, and the homes are actively being remodeled. We expect these three houses to be ready to hit the market in late August or September, with some down payment assistance available for those who qualify.
4. Backyard Movie Night Program. The backyard movie night program is in its second year and is a great way to enjoy the experience of going to the movies while remaining safe in your own yard! With two movie kits to choose from, one with an 120 inch screen and the other with an 180 inch screen, this program provides you with the equipment needed to create a memorable evening. And there's only a $50 refundable deposit so it's essentially free to Council Bluffs residents. Available dates are going fast as the program picks up popularity.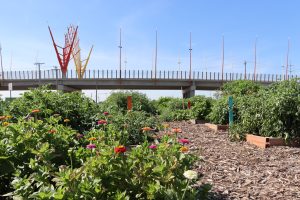 5. CreekTop Gardens. Our community garden is thriving! This is the first season that all 90 of garden plots are planted, through a combination of rented plots and community plots maintained for the gardeners. We've also been hard at work creating fun informational videos for the Council Bluffs Community School District summer camp students this month through the support of CHI Health Mercy. These videos will be released soon on our website and CreekTop Gardens Facebook page.
6. Rock the Block Volunteer Opportunities. We were planning to launch our Rock the Block program in the spring but had to delay it due to the pandemic. Our organization is excited to move forward with the program in an adjusted format in early Fall with social distancing and safety precautions set in place. Soon there will be the opportunity to help your fellow neighbor and sign up for a variety of volunteer projects tied to enhance curb-appeal and exterior repair projects.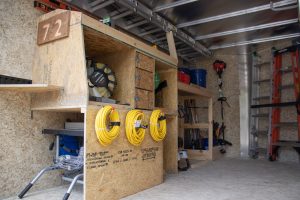 7. 712 Tool Trailer. Building off the idea of Rock the Block, we came up with the idea of a tool trailer for the community. Similar to the popular Block Party Trailer, the Rock the Block trailer will be chock full of tools to reserve for your home project needs. Through a partnership with Habitat for Humanity of Council Bluffs and First National Bank of Omaha, the trailer will be launching soon for Council Bluffs residents to check out.
Seven great things to look forward to as summer moves along. All these programs are things one can either enjoy at home or with social distancing and safety measurements set in place. Our organization hopes the community is as excited about these seven things as we are.